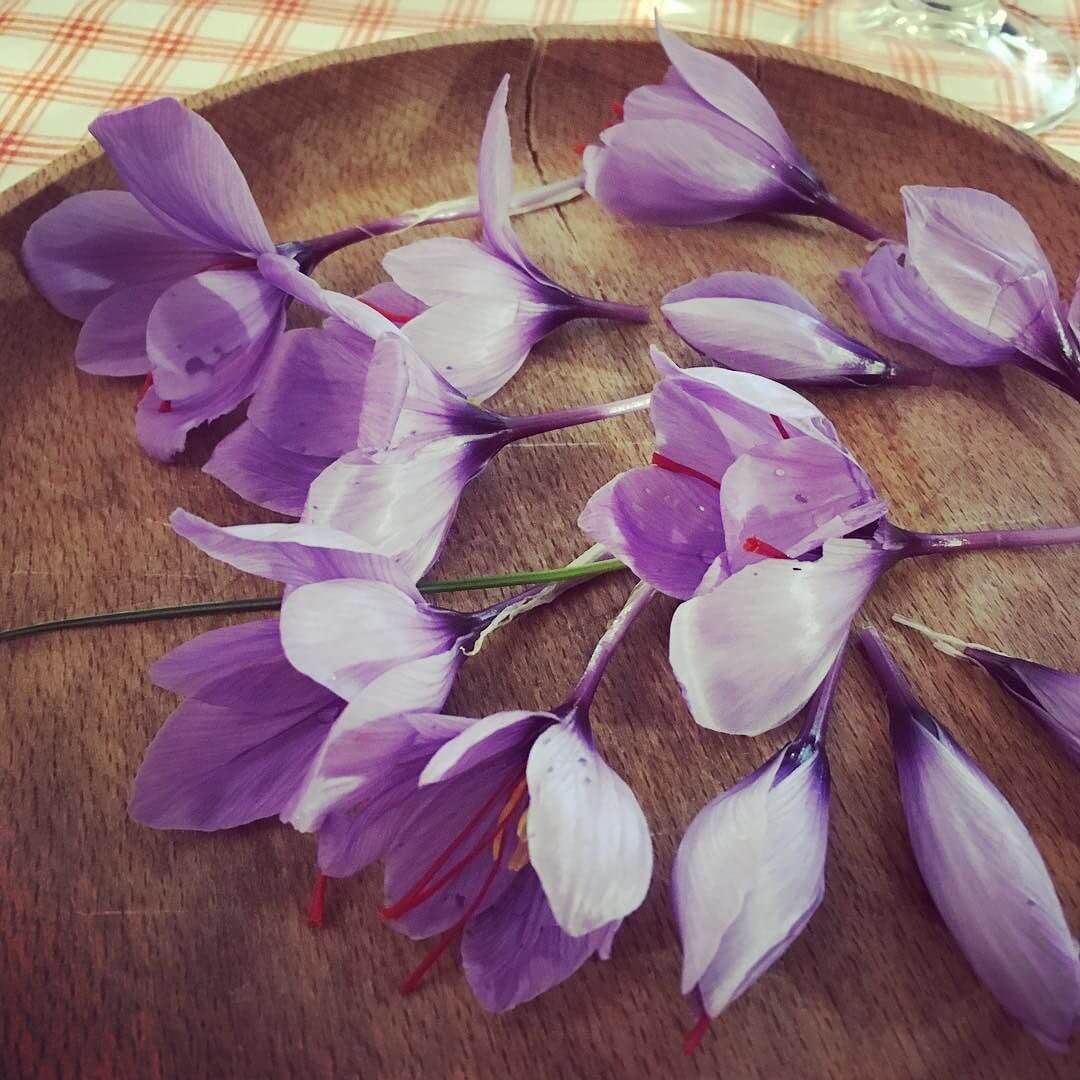 Saffron is responsible for that distinctive bright yellow color and flavor of Italian risotto milanese, French bouillabaisse, Spanish paella and Indian biryanis. Like truffles, some people find saffron completely intoxicating and addictive. But what is it, why is it the most expensive spice out there, and is it really worth it?
Saffron is the dried orange-red stigma of a particular kind of crocus flower. There are only 3 stigmas in each flower, and you have to harvest them carefully by hand just as the flower is opening. It takes almost 170,000 crocus flowers to produce just one kilogram of dried saffron. And as such, it comes with a high price tag.
Saffron has a very subtle flavor and aroma — some say it's floral, some say it's like honey, and some would just say pungent. The flavor can be hard to nail down and described. If you're going for authenticity in dishes like paella and bouillabaisse, you've got to have saffron. There's really no substitute for its flavor.
When buying saffron, look for threads that are uniformly long and have an eye-popping color. Don't bother with broken saffron, saffron powder, or threads that look dull and dusty, they're not worth the cost. This is definitely one of those spices where it's worth it to pay more. So-called "bargain" saffron is probably very old or mixed with saffron styles (another part of the crocus) or marigold flowers.
So Is It Worth the Cost?.
Saffron can be a contentious ingredient. Those going for authenticity would never make a classic saffron-based recipe without it, and those with sensitive palates would argue that it adds a unique flavor that you can't find anywhere else. To them, that little pinch of saffron makes and breaks the dish, so it's worth the high cost. But there are those out there who aren't as worried about exact flavor replication and just want to approximate the yellow glow without spending a fortune, so they choose a substitute like turmeric instead.
HEALTH BENEFITS OF SAFFRON
Saffron contains several plant-derived chemical compounds that are known to have been anti-oxidant, disease preventing, and health promoting properties.
Their flower pistils compose several essential volatile oils, but the most important of them all is safranal which gives saffron its pleasant flavor. Other volatile oils in saffron are cineole, phenethenol, pinene, borneol, geraniol, limonene, p-cymene, linalool, terpinen-4-oil, etc.
This colorful spice has many non-volatile active components; the most important of them is a-crocin, a carotenoid compound, which gives pistils their characteristic golden-yellow color. It also contains other carotenoids, including zea-xanthin, lycopene, a- and ß-carotenes. These are important antioxidants that help protect the human body from oxidant-induced stress, cancers, infections and acts as immune modulators.
The active components in saffron have many therapeutic applications in many traditional medicines as antiseptic, antidepressant, anti-oxidant, digestive, anti-convulsant.
This novel spice is a good source of minerals like copper, potassium, calcium, manganese, iron, selenium, zinc and magnesium. Potassium is an important component of cell and body fluids that helps control heart rate and blood pressure. Manganese and copper are used by the human body as co-factors for the antioxidant enzyme, superoxide dismutase. Iron is essential for red blood cell production and as a co-factor for cytochrome oxidases enzymes.
Additionally, it is also rich in many vital vitamins, including vitamin A, folic acid, riboflavin, niacin, vitamin-C that is essential for optimum health.
Recent studies have also demonstrated that saffron extract, specifically its crocin, is useful in the treatment of age related mental impairment. In Japan, saffron is encapsulated and used in the treatment of Parkinsons disease, memory loss and inflammation.
MEDICINAL USES
The active components present in saffron have many therapeutic applications in many traditional medicines since long time as anti-spasmodic, carminative, diaphoretic.
Research studies have shown that, safranal, a volatile oil found in the spice, has antioxidant, cytotoxic effect on cancer cells, anticonvulsant and antidepressant properties.
Alfa-crocin, a carotenoid compound, which gives the spice its characteristic golden-yellow hue, has been found to have anti-oxidant, anti-depressant, and anti-cancer properties.