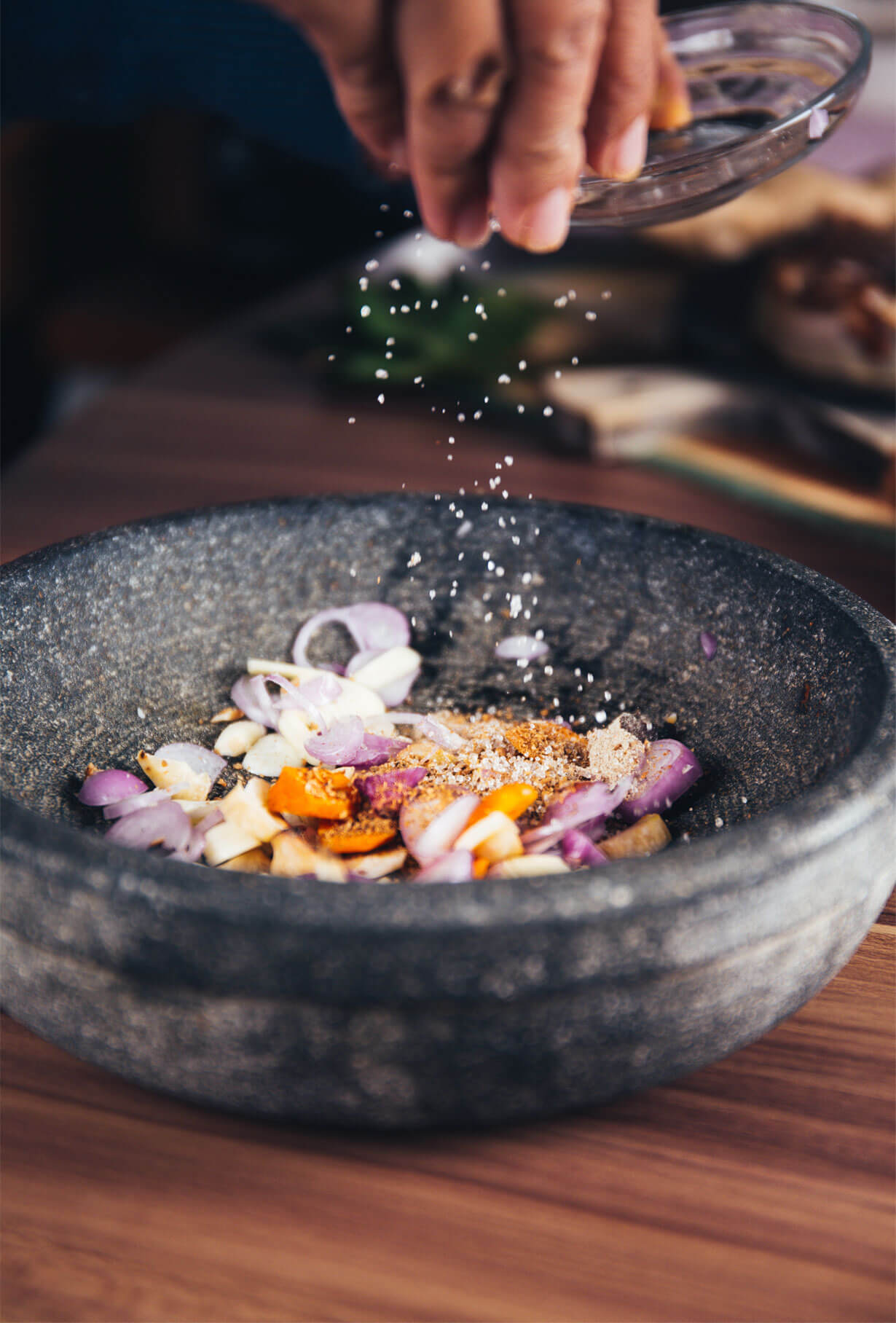 Bomba rice is a short-grain, starchy type, and its ideal texture is tender but chewy in the center, like al dente pasta. Try not to overcook. Use the shrimp shells and chorizo ends to make the Back-Burner Stock.
INGREDIENTS
4 Servings
1 medium onion, quartered
2 celery stalks, coarsely chopped
4 garlic cloves
2 small tomatoes
2 tablespoons plus ½ cup olive oil
1 pound Spanish chorizo, casings and ends removed, sliced into rounds
8 ounces shrimp, peeled, deveined
2 teaspoons kosher salt, plus more
¾ cup dry white or rose wine
2 teaspoons smoked paprika
½ teaspoon sugar
Back-Burner Stock
1 teaspoon saffron threads
1½ cups bomba rice
1 cup green olives (such as Castelvetrano),
pitted, torn into large pieces
1 lemon, plus wedges for serving
Radish sprouts (for serving)
Flaky sea salt
PREPARATION
Process onion, celery, and garlic in a food processor until finely chopped; transfer to a small bowl. Add tomatoes to processor and process until smooth; set soffritto aside.
Heat 2 Tbsp. oil in a 12″–14″ paella pan or skillet over medium-high. Add chorizo and cook, turning occasionally, until golden brown on both sides, about 5 minutes. Transfer to a plate.
Add shrimp to same skillet, season with salt, and cook, turning occasionally, until browned and cooked through, about 2 minutes. Transfer to plate with chorizo.
Heat remaining ½ cup oil in same skillet over medium-high. Add reserved soffritto and cook, stirring occasionally, until softened, 8–10 minutes. Add wine, bring to a boil, and cook until mixture is reduced by half, about 3 minutes. Add paprika, sugar, and 2 tsp. salt. Increase heat to high and cook, stirring constantly, until mixture is thick, about 3 minutes. Add stock and saffron and bring to a boil.
Add rice and cook, stirring constantly, until liquid starts to simmer, about 5 minutes. Quit stirring; a film will form on the surface (this will trap steam, making a gooey cover over the rice, helping it cook evenly). Reduce heat to low and simmer, moving pan around every few minutes so the entire bottom gets equal time over the hottest part of flame, until liquid evaporates, 12–15 minutes.
Top with olives and reserved chorizo and shrimp. Finely grate lemon zest and squeeze lemon juice over paella, top with sprouts, and season with sea salt. Let paella rest 5 minutes before you dig in; serve with lemon wedges.
Fish Couscous with Onion T'faya
T'fayas, special-occasion dishes served all along Morocco's Atlantic coast, are known for their thick, sweet and heavily spiced sauces. This one gets a pleasant layer of sweetness from raisins and a touch of sugar, which marries perfectly with halibut.
INGREDIENTS
2 ½ cup raisins
2 4 tablespoons extra-virgin olive oil
2 tablespoons butter
8 saffron threads, (see Ingredient Note)
2 teaspoons salt
1 teaspoon ground ginger
1 teaspoon ground turmeric
½ teaspoon ground allspice
½ teaspoon ground nutmeg
½ teaspoon ground cinnamon
½ teaspoon freshly ground pepper
3 large onions, (2-2½ pounds), very thinly sliced
1 tablespoon sugar
2⅓ cups reduced-sodium chicken broth, fish broth or vegetable broth, divided
2½ pounds Pacific halibut, or other firm white fish, skinned and cut into 2-inch wide pieces
Freshly ground pepper, to taste
1 tablespoon canola oil
½ cup sliced or slivered almonds
1 cup whole-wheat couscous
PREPARATION
Place raisins in a small bowl and cover with warm water; let soak for 10 minutes. Drain.
Crush saffron and salt together in a mortar and pestle until a coarse powder forms. (Alternatively, place saffron and salt on a cutting board and use the flat side of a chef's knife to grind into a coarse powder.) Combine with ginger, turmeric, allspice, nutmeg, cinnamon and pepper in a small bowl.
Heat 2 tablespoons olive oil and butter in a Dutch oven over medium heat. Add the spice mixture and cook, stirring, until the mixture starts to foam. Add onions, sugar and the plumped raisins. Cook, stirring occasionally, until the onions turn light brown, 20 to 25 minutes. Add 1 cup broth and nestle fish into the onion mixture. Cover and cook until the fish is flaky, 8 to 10 minutes. Remove from the heat and season with pepper. Cover and set aside.
Meanwhile, heat canola oil in a small skillet over medium-high heat. Add almonds and cook, stirring, until just beginning to turn golden, about 1 minute. Drain on paper towels.
Bring the remaining 1⅓ cups broth and the remaining 2 tablespoons olive oil to a boil in a small saucepan. Add couscous in a stream. Stir once. Cover, remove from the heat and let stand for 5 minutes. Fluff with a fork.
To serve, mound the couscous on a shallow platter. Top with the fish and onion t'faya and sprinkle the almonds on top.
Salmon With Saffron Cream Sauce
INGREDIENTS
250g (fresh cutlet or steak)
1⁄2teaspoon olive oil
1⁄4teaspoon black pepper
5saffron strands
1teaspoon water
200ml water
2tablespoons sour cream
1⁄2teaspoon lime juice
1teaspoon fresh chives chopped
PREPARATION
Evenly spread saffron threads at the bottom of a small glass and top with 1 teaspoon of water.
Place into a microwave oven towards the edge of the carousel with 200ml of water in a large glass at the opposite edge.
Microwave on high for 3 minutes.
WARNING – the water may be superheated – allow to rest 5 minutes before touching either glass.
Remove the small glass and transfer the saffron / remaining liquid to a small mixing bowl (or for a single serve just leave in the glass).
Mix through sour cream, lime juice and chopped chives mixing well and place in refrigerator while salmon cooks.
Rub olive oil over the salmon and sprinkle with pepper.
Cooking using your preferred techique, I grilled them on a BBQ plate over medium heat for about 7 minutes a side.
Spread (it is quite thick) mixture over the salmon and serve with your favourite salads and side-dishes.
INGREDIENTS
Cannoli Shells
1 cup all-purpose flour, plus more for dusting
1½ tbsp granulated sugar
½ tsp unsweetened Dutch-process cocoa powder
¼ tsp ground cinnamon\
¼ tsp coarse salt
3/8 cup sweet Marsala wine
1½ tbsp vegetable oil
½ large egg white, lightly beaten
2 oz. semisweet chocolate (preferably 61% cacao)
confectioners' sugar, for dusting
saffron (for sprinkling, optional)
Mascarpone Crème
1 pinch saffron
¼ tsp cardamom powder
¾ cup whole milk ricotta cheese
(drained overnight with cheesecloth & squeezed dry)
¾ cup mascarpone cheese
¼ cup powdered suga
½ tsp vanilla or Grand Marnier
½ tsp ground cinnamon
pinch of salt
PREPARATION
Cannoli Shells. Combine flour, granulated sugar, cocoa powder, cinnamon, and salt in the bowl of an electric mixer. Add Marsala and oil, and beat on medium speed until dough comes together. Using your hands, knead dough on a lightly floured work surface until smooth and elastic, about 15 minutes. Wrap in plastic, and let it rest for 30 minutes.
Divide dough into 2 pieces. Pass 1 piece of dough through the widest setting of a pasta machine (keep remaining pieces covered) or roll out into a thin sheet of dough. Continue passing through narrower settings until it is the thickness of a dime. Lay on a floured work surface. Cut out rounds with a 3¼-inch cutter. Gather scraps and reroll.
Pour enough oil into a large, heavy saucepan to come about 4 inches up sides. Heat over medium heat until a deep-fry thermometer registers 380 degrees.
Wrap each round of dough around a 3¾-inch-long cannoli form, sealing with a dab of egg white. Working in batches of 3 or 4, fry until golden, about 1 minute. Using a wire skimmer or tongs, transfer to paper towels, and let them cool for 5 minutes. Carefully slide out forms, and let shells cool.
Melt chocolate in a heatproof bowl set over a pan of simmering water. Dip ends of cannoli shells in melted chocolate. Let set 15 minutes on parchment paper.
Mascarpone Cream. Mix filling ingredients together.
Cover and refrigerate until ready to use (at least a couple of hours).
When ready to serve, use a ziploc bag (cut the corner) or pastry bag with ½-inch star tip. Pipe filling into one end of a shell to the center, then into other end. Repeat with remaining shells and filling. Dust with confectioners' sugar, and serve immediately.
Let the filling smoosh out of each end of the shells.
Some people sprinkle powdered sugar on top right before serving or dip the ends into chocolate shavings.
A traditional Indian dessert, this fudgey almond wonder is a great, but still decadent, alternative to chocolate fudge. The saffron gives it an exotic almost smokey flavor and, of course, a bright marigold hue.
INGREDIENTS
Almonds 1 cup (soaked & peeled)
Sugar 1/2 cup or to taste
Ghee 4 tbsp
Saffron 10-15 soaked in warm milk
Green Cardamom powder 1 tsp
Milk to grind almond
Yellow Food Color 1-2 drop (optional)
PREPARATION
Soak almonds overnight and then peeled almond .Put the peeled almonds in a blender and add milk so it can enough to cover almonds.Blend it into a coarse paste or fine paste indiviual choice .i like coarse one.
Heat a pan add 2 tbsp ghee once ghee melts add badam grind mixture keep stirring continuously to avoid burning from bottom.
Add sugar then Constantly stir the mixture as it can stick burn from bottom. Add Saffron milk & food color into it & additional 2 tbsp of ghee so that mixture doesn't stick to bottom & while its boiling.once mixture start leaving ghee stir for 2- 3 minutes.turn off heat.
Take out in a bowl Garnish with sliced almonds. Serve & enjoy.